Univision's UniMas Draws More Major League Soccer Viewers Compared to ESPN & NBC Sports This Season
Dec 27, 2013 11:34 AM EST
Sign up to receive the lastest news from LATINONE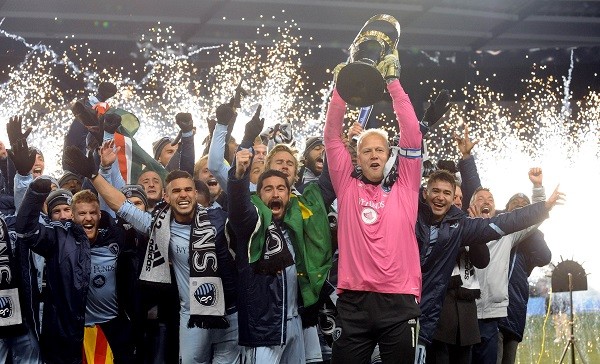 Major League Soccer's (MLS) ESPN ratings saw a decline in this year's coverage of the MLS Cup title match between Real Salt Lake and Sporting KC, but the American soccer league did see an increase in its Spanish-language UniMas telecast.
Univision's UniMas network garnered 514,000 viewers compared to ESPN's 505,000 viewers for this year's MLS Cup telecast, with league viewership up overall on the Spanish-language network by six percent compared to last year and double what Galavision - another Univision property that used to air MLS games - attracted when it held the broadcast rights for the American soccer league.
UniMas also beat out ESPN2's regular-season coverage, averaging 223,000 viewers for their Spanish-language telecast compared to 181,000 for ESPN2, despite the worldwide leader's sister station being available in 98,477,000 homes compared to UniMas' 65 million homes.
MLS has benefited from Univision's efforts to rebrand their Telefutura channel, which switched over to UniMas in January and focusing on attracting millennials to their network by featuring grittier programming with dramas based around the criminal underworld such as their Spanish-language remake of AMC's Breaking Bad named Metastasis as well as airing more sports programming including boxing, MLS games, Liga MX games, the 2013 CONCACAF Gold Cup, the 2013 Confederations Cup, Mexican national team World Cup qualifiers and their friendly matches, and next year's Brazil World Cup.
"UniMás delivers more action, more drama and more sports than ever before and will be another platform for us to celebrate our culture and connect America," said Randy Falco, president and CEO, Univision Communications Inc., at the time of the relaunch.
MLS has had success focusing on stadium attendance, with only the National Football League (NFL) and Major League Baseball (MLB) drawing more fans, averaging 18,611 fans per game this season, compared to other North American team sports (the National Basketball Association averaged 17,348 fans for the 2012-2013 regular-season and the NHL averaged 17, 768 fans for the strike-shortened 2012-2013 season), allowing for the league to look into expanding from 19 teams to 24 clubs by 2020.
The league announced this year they would be adding a second team in the New York City market (New York City FC) and the Orlando Soccer Lions while looking at Atlanta as a possible site for expansion (Atlanta Falcons owner Arthur Blank is interested in buying an MLS franchise) as well as teaming up with David Beckham to bring soccer back to the Miami area.
But the English-language television ratings for the league have declined this past season, with average viewership dropping by 29 percent on ESPN/ESPN2 and by eight percent to 112,000 on NBC Sports Network.
Industry experts believe that while MLS has had great success boosting attendance and regional broadcast coverage, and with the league's media rights up for grabs in 2015, MLS has to leverage their attendance success into national broadcasting success to continue the league's growth.
"In a very cluttered sports broadcasting landscape, sometimes it's difficult to break through," said Scott Guglielmino, senior vice president of programming at ESPN to the Sports Business Journal. "We have to find the right scheduling mix of what works for MLS from both an attendance and national TV perspective."
MLS commissioner Don Garber agrees that the time is right for the league to bolster its national television presence considering the strides the league has made in recent years.
"To grow your television ratings, you have to grow your fan base first, and we've been growing our fan base," said Garber. "We have to find a partner that gives us the right schedule, that gives us the right promotion and marketing, that is embracing us in ways that will allow us to have our programming be valuable, and be a priority both for the broadcaster and for our fans."
One suggestion made is introducing a "flex schedule" component much like the NFL does to ensure the most compelling match-ups get national prime-time attention.
"We have strongly urged MLS to consider a flex-scheduling concept," said Jon Miller, president of programming for NBC Sports. "With good reason, MLS's focus has been on attendance and getting local television deals. I think they know now that national television should be a priority. Hopefully, the league will work with the club owners to make something like flex scheduling a reality."
MLS President Mark Abbott remains confident that the league will rebound next season, considering NBC's commitment to use their English Premier League broadcasts to promote MLS, as well as attaining viewers as a result of the World Cup ratings "bounce" the league tends to see after the tournament ends in July.
"The World Cup always introduces the sport to new fans, and we have seen increases in attendance and other metrics following every World Cup since the league's inception [in 1996]," said Abbott to SBJ.com. "The U.S. team will feature a core of MLS players such as Clint Dempsey, Landon Donovan, Omar Gonzalez and Graham Zusi, providing a tremendous opportunity to deepen our connection with the tens of millions of soccer fans in our country. We'll also have many players, such as Australian captain and Red Bulls midfielder Tim Cahill, competing for other countries in Brazil."
© 2015 Latin One. All rights reserved. Do not reproduce without permission.
Sign up to receive the lastest news from LATINONE