Cyber Monday 2013 News: Walmart Brings Huge Savings on HDTV and Other Gadgets, Free Shipping To Rival Amazon Prime
Dec 02, 2013 02:26 PM EST
Sign up to receive the lastest news from LATINONE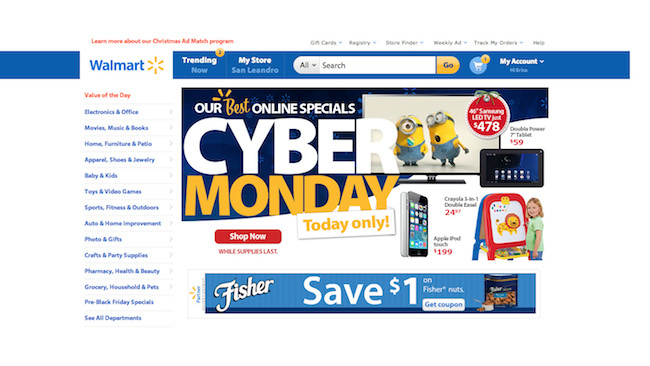 Walmart is hopping on the growing Cyber Monday trend with some typically low Walmart prices on some top tech products. Here's a look at some of the offers they're including.
Cyber Monday at Walmart is actually "Cyber Week", which kicked off on Saturday Nov. 30 and goes until Friday, Dec. 6. Different online specials are appearing on Walmart.com every day, so keep checking for a new virtual doorbuster to appear throughout the week.
The big box store is seeing its online business growing, much like other Cyber Monday hot spots for 2013 like Amazon.com, which has some big sales of its own on TVs, gadgets, and its own Kindle Fire HDX tablet.
"Last year, Cyber Monday was our best sales day in Walmart.com's history and we've spent all year preparing to make it even better for customers," said Joel Anderson, president and CEO, Walmart.com U.S. in a release. "More than two-thirds of people who plan to shop in our stores on Black Friday also plan to shop Cyber Monday," said Anderson, based on Walmart Corp.'s own internal study. "Every year there's a bigger appetite for Cyber Monday, so we're giving our customers great deals and rolling back our free shipping minimum to $35, helping them extend their budgets this holiday season."
The free shipping minimum of $35 helps Walmart compete with Amazon, which offers free shipping with Prime accounts and on several of its biggest sellers during this busy online shopping season. Walmart said that with the free shipping minimum at $35, it applies to 99 percent of Walmart.com items for sale. Customers can also upgrade to a faster 3-5 day shipping option for $2.97 "with most orders arriving in three days or less, without a subscription fee," said Walmart's statement, taking another stab at Amazon.
What kinds of deals can you find at Walmart? The company has listed only a few big sales ahead of time, but with Cyber Monday (or, now, "Cyber Week") commerce continuing to grow steadily over the past years, you can bet you'll find more products than the following on sale at Walmart's big box store in the cloud:
LG 55-inch 3D LED TV with Soundbar Bundle - $799 ($500 savings)
Samsung 46-inch LED TV - $478 ($400 savings)
LeapFrog LeapPad2 Crayola Creativity Pack Bundle - $69 ($60 savings)
Doublepower 7-inch Tablet - $59 ($20 savings)
HP Sleekbook Ruby Red 14-inch Pavilion Laptop PC - $295($133 savings)
Fisher Price Powered Ride-on Minnie Mouse Jeep - $189 ($60 savings)
Disney Princess Ultimate Dream Castle - $119 ($60 savings)
Crayola Melt-n-Mold - $22 ($32 savings)
PlayStation 4 bundle with Dualshock 4 controller and game - $517 (special buy)
Xbox One bundle with choice of a game or accessory - $559 (special buy)
Take note, the 46-inch Samsung LED TV is also available from Amazon at 50 percent off, if you can catch it before its gone.
Thanksgiving Thursday, Black Friday, and the weekend afterwards have all shown growth in online sales over previous years. This year, shopping traffic from mobile devices has skyrocketed, with independent analysis showing an increase and now a statement from Walmart from its own internal analysis:
"Mobile now accounts for 50 percent of Walmart.com traffic, a percentage that has doubled over the past two years. Tablet traffic to Walmart.com has increased 80 percent since last holiday season."
Walmart.com is clearly a well-known, trusted site, but for other online shopping with your smartphone, check out and follow these precautions to keep your data safe and avoid scams. Happy hunting!
© 2015 Latin One. All rights reserved. Do not reproduce without permission.
Sign up to receive the lastest news from LATINONE