Nokia Lumia 2520 Tablet Hits AT&T on Nov. 22: More Platform Than Surface
Nov 16, 2013 07:25 PM EST
Sign up to receive the lastest news from LATINONE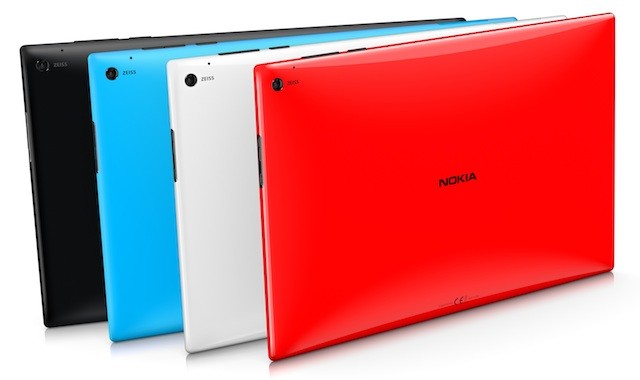 AT&T announced on Nov. 15 that the Nokia Lumia 2520 would be released on Nov. 22, the same day as the Xbox One.
This is Nokia's first Windows tablet, and the first serious venture into slates in years by the Microsoft-owned Finnish device maker. And the Windows RT 8.1 Lumia 2520 tablet looks like it - with a high definition display, built-in Office, and keyboard cover. But it begs the question, do we need both a Surface 2 and a Lumia 2520?
The Nokia Lumia 2520 comes with Windows RT 8.1, pre-loaded with Office Home and Student 2013 edition. It's got a 10.1-inch Full High Definition 1080p display, runs a 2.2GHz quad core Qualcomm Snapdragon 800 processor, and features a touchscreen and physical keyboard cover. And it costs about $500. And it comes from Nokia, which is now owned by Microsoft - so it basically is a Microsoft tablet.
Sound familiar?
Launched a full month earlier, on Oct. 22, the Microsoft Surface 2 comes with Windows RT 8.1, Office Home and Student, a 10.6-inch 1080p full HD display, a 1.7GHz quad core NVIDIA Tegra 4 processor, and a physical keyboard in the guise of its Type Cover 2. And it's obviously made by Microsoft and costs about $500 - more with accessories and optional expanded storage space.
What's the difference? And do we really need two 10-inch Windows RT 8.1 tablets?
The Nokia Difference
There is a difference between the two, though they are very similar in many respects.
First, being a Nokia device, the 2520 tablet comes in four fun colors: White, glossy red, black, and cyan. This is the very definition of a cosmetic difference, but in the crowded mobile device market - and the increasingly crowded tablet submarket - something that stands out a little will find its fans.
Second - and much more important from a functionality standpoint - the Nokia Lumia 2520 is LTE capable at launch. With its 2.2GHz Snapdragon 800, one of the bleeding-edge mobile processors right now, the Lumia 2520 is ready for the fastest data connections available, and will be compatible with AT&T and Verizon.
Right now, the Surface 2 is WiFi only, limiting its usefulness for a vast swath of power users. That will change in early 2014, as Microsoft told a Reddit AMA that an ARM-based Surface that supports LTE is coming, but for now, Nokia has the corner on this very important feature.
Finally, there's the price and "wireless ecosystem." The Surface 2 is very close to the Nokia Lumia 2520's price at face value, but add on the physical keyboard cover and you've overshot the $500 mark. With the Lumia 2520, AT&T will offer a $100 subsidy for a wireless contract, and if you're a true Nokia fan and want a Lumia 925, 1020, or 1520 smartphone (with its own contract) along with your tablet, AT&T will drop the price of your Lumia 2520 to $200.
That's $300 for a flagship Windows Phone device and a Windows RT 8.1 tablet that does nearly everything the Microsoft Surface 2 does - as long as you're willing to sign on to the contracts. Smart analysis by TechCrunch's Alex Wilhelm says that this is a gambit to establish a mobile Windows ecosystem of compatible devices and get customers into a Windows-buying "virtuous loop."
That will only ultimately happen, though, if people see the Windows tablet/smartphone duo as worth two years of commitment.
© 2015 Latin One. All rights reserved. Do not reproduce without permission.
Sign up to receive the lastest news from LATINONE