Super Bowl 2014 Halftime Show: Will Bruno Mars Look as Good as the Best Dressed Halftime Show Acts? [Video]
Jan 29, 2014 09:49 AM EST
Sign up to receive the lastest news from LATINONE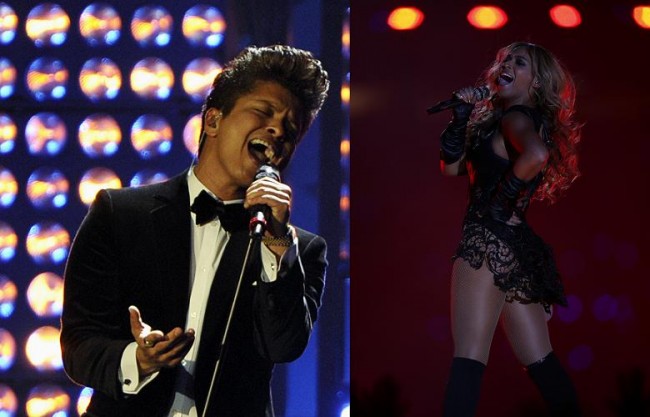 When it comes to style, Grammy Award-winning artist Bruno Mars looks as cool as his music is hot.
This Sunday, all eyes will be on Mars as he rocks MetLife Stadium during the Super Bowl XLVIII Halftime Show alongside the Red Hot Chili Peppers. Attempting to follow Beyonce's buzz-worthy performance at last year's Super Bowl Halftime Show won't be any small feat, especially when factoring in the challenge of having to perform in the frigid temperatures expected in New Jersey for Sunday's game. However, if anyone can live up to those expectations, it's the wildly-talented Honolulu, Hawaii-born crooner with sounds as unique as his flair for fashion.
Mars is definitely a fashion plate among today's biggest music stars. His good looks and blowback hairstyle give him a rather debonair quality and he has the ability to make virtually any suit look good. But just slap a pair of sunglasses and his trademark fedora on him and he can rock anything from a flannel shirt, sneakers and jeans to a tuxedo suit and more. Of course, it's going to be a little tricky looking dapper and staying warm amid the wintry chill expected to blast through MetLife Stadium on Sunday, but if anyone can look cool and heat things up for the thousands that are expected to fill the stadium for the biggest sporting event of the year in the U.S., Mars is definitely the man for the job.
However, there's a long list of superstar singers in Super Bowls past that have managed to sizzle on stage with both their performance and their attire. From the grace and class of Diana Ross, to the sensuality and style of Beyonce, the Super Bowl Halftime Show has seen its share of some great wardrobes—and no, Janet Jackson isn't on this list.
Latino Post reviews some of the Best Dressed Halftime Show Acts of all time:
5. Diana Ross, Super Bowl XXX (1996)
In a Super Bowl that was a bit more competitive than the blowouts in years past, Diana Ross kept the excitement going onstage when the legendary singer graced the stage in a brightly colored orange and purple highlighted gown, keeping the crowd on their feet with hits like "Stop in the Name of Love," "Ain't No Mountain High Enough," "Baby Love," and more. Even years after the prime of her career, the Detroit-born diva proved that she still had it…and so did the Dallas Cowboys, who capped a dynasty with their third Super Bowl title in four years thanks to game MVP Larry Brown, who grabbed two interceptions to seal a 27-17 Cowboys win over the Pittsburgh Steelers.
4. Gwen Stefani, Super Bowl XXXVII (2003)
Gwen Stefani is a rare beauty. She can look posh and elegant in an evening gown, yet she can look like a skater boy's dream girl. While it might have intimidated some female acts to share the stage with the gorgeous Shania Twain, who sported a jeweled bustier and a leather jacket onstage, Stefani kept it real with a simple pair of black bellbottoms and a shiny tank top that bared her perfectly toned midriff as she rocked the house with rock legend Sting. She wasn't the only thing that rocked as Warren Sapp's Tampa Bay Buccaneers and game MVP Dexter Jackson brought Tampa Bay its first Super Bowl title ever by crushing the Oakland Raiders, 48-21.
3. Beyonce, Super Bowl XLVII (2013)
In a memorable Super Bowl Halftime Show that featured a stunning blackout and the reunion of Destiny's Child onstage, Beyonce was dressed to kill as she sported a black leather and lace-styled outfit that wowed the 71,024 fans in attendance. While there were a few unflattering pictures of her performance that went viral, the crowd was definitely on her side in an electrifying performance that was a prelude to a furious, edge-of-your-seat finish as Super Bowl MVP Joe Flacco and the Baltimore Ravens held off the San Francisco 49ers' comeback, 34-31, to clinch their second franchise Super Bowl.
ENJOY READING JEAN PAUL'S NFL/SPORTS STORIES? CHECK OUT MORE HERE
2. Paul McCartney, Super Bowl XXXIX (2005)
Music legend McCartney of the iconic Beatles rocked the house at Alltel Stadium in Jacksonville, Fla., looking as rock & roll as can be with a simple, but stylish pair of dark jeans, a black jacket and a red shirt emblazoned with a black star on it. He's Paul freakin' McCartney—of course, it looked good; almost as good as game MVP Deion Branch did with 11 catches and 133 yards for the New England Patriots as they put the exclamation point on their dynasty with a 24-21 win over the Philadelphia Eagles for the Pats' third Super Bowl in four years.
1. Prince, Super Bowl XLI (2007)
If there was ever a performer that embodied cool under the fire of the Super Bowl's bright lights, Prince was that man. Rocking a bold teal-colored jacket and pants with an orange shirt underneath for flair, Prince thrilled the crowd by strumming that customized purple guitar as only he could with a medley of hits that included "Let's Go Crazy," "All Along the Watchtower" and "Purple Rain," capping it with an incredible guitar solo that had Sun Life Stadium on its feet. The only thing that even came close to looking as cool as Prince did was the icy performance of Super Bowl MVP Peyton Manning, who threw for 247 yards and one touchdown to lead the Indianapolis Colts to their first Super Bowl title since moving to Indianapolis from Baltimore, beating the Chicago Bears 29-17.
© 2015 Latin One. All rights reserved. Do not reproduce without permission.
Sign up to receive the lastest news from LATINONE