Latino Voters 2016: Minority or Majority? [Poll]
Jan 05, 2016 06:00 AM EST
Sign up to receive the lastest news from LATINONE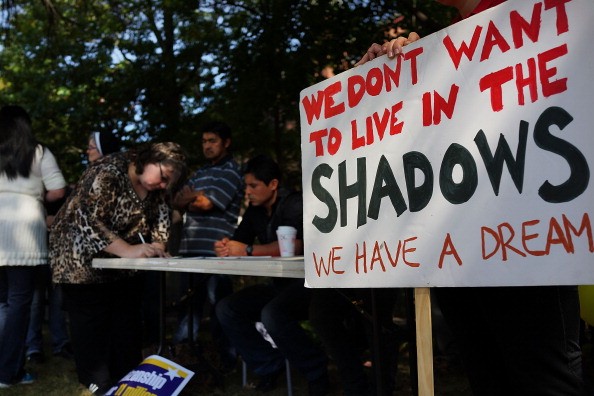 Will Latinos make significant effect on the 2016 elections?
In the past, Latinos appeared far from U.S. politics. Colombia Tribune revealed that this may have been due to the group's evident lack of interest, after all.
The above outlet cites proof in a Census Bureau record, which revealed less than half of eligible Hispanic voters -- about 48% -- showed up during the 2012 election. Meanwhile, more than two-thirds of the total population of whites and blacks participated.
Despite this, there are politicians trying to win Latin Americans over, convinced that having them on their respective sides could mean a comfortable seat in Congress or even the White House.
Politicians, Republicans in particular, are believed to take more consideration for the Latino community, after Republican governor Mitt Romney won over a total of 27 percent of the Hispanic voters during the 2012 elections.
Still, there could be those quietly making moves to gain favor. Donald Trump, long slammed by Latinos, remains in the headlines for some reason.
Fox News' Latino correspondent Geraldo Rivera said about the business magnate, "For all his success among whites, Trump is getting crushed in surveys of minority voters. He is deeply unpopular among blacks, Asians, Muslims, millennials and pro-choice women. For all his charm, there is special loathing for The Donald among Latinos."
Yet Trump pacifies critics with a confident and capable aura, as well as his opinion about the Miss Universe 2015 coronation night flub. He urged the now-reigning Miss Universe Pia Wurtzbach (Philippines) to share the crown with first runner-up Ariadna Gutierrez (Colombia), calling them "co-winners."
"I'll tell you what I think I'd do. I think I'd make 'em a co-winner. It'd be very cool... I would recommend that they go have a beautiful ceremony, which is good for the brand and good for Miss Universe, and do a co-winner," he told NBC in an interview posted over Today's Twitter.
How would @RealDonaldTrump have handled #MissUniverse2015? "Co-winner" https://t.co/Kn9deWowTs

— TODAY (@TODAYshow) December 21, 2015
If that does not prove how important Latinos are for him, we can only speculate what will.
While Latinos might ignore their right to suffrage, statistics show a big wave in the election results if a bulk of the eligible population cast their votes.
In a previous article, US News considered Hispanics as "the largest minority group" in the U.S. based on the Census Bureau's records, noting them to compose 17 percent of the entire American population.
The outlet also cited a statement from a University of New Mexico professor, Gabriel Sanchez, who proved how quick the Hispanic community is growing. "Every 30 seconds, a Latino citizen turns 18 and becomes eligible to vote... That's 66,000 each month. That's a powerful number," he said the Congressional Hispanic Caucus Institute's annual policy conference in Washington.
From what history and these records tell us, will Latinos make big impact in the upcoming elections? Cast your votes below.
© 2015 Latin One. All rights reserved. Do not reproduce without permission.
Sign up to receive the lastest news from LATINONE