Dell's First Chromebook 11 Offers Low Specs, Low Price For Educators
Dec 12, 2013 09:04 PM EST
Sign up to receive the lastest news from LATINONE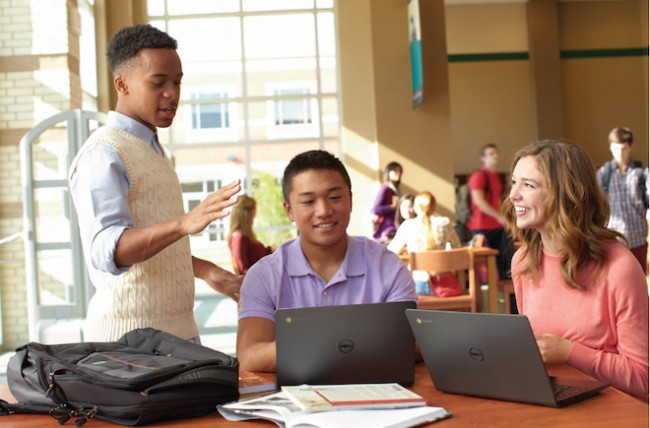 Dell obviously isn't convinced by Microsoft's "Scroogled" campaign, as it announced this week that it has partnered with Google on its own Chromebook 11, aimed at the education market.
With this announcement, Dell is the latest erstwhile Windows-exclusive manufacturer to stray from Microsoft for a quickie Chrome OS device, following others like Acer, Samsung, and HP.
Like most Chromebooks, the Dell Chromebook 11 comes with low-end hardware specs, but since it runs the processor-efficient Chrome operating system, which uses Google's cloud for storage and offers a no-frills interface, the new Chromebook 11's performance should be decent. And, importantly for school systems, it will be cheap.
Hardware Specs
Dells' Chromebook will come in a slim, portable design with a low-powered processor and screen. The 11.6-inch screen is one of the most common Chromebook display sizes, and it comes with a middling resolution of 1366 x 768p. It features a Haswell-generation processor with Intel HD Graphics, but it's a Celeron (2955U), so it's not anything to get too excited about.
Two different version of the Dell Chromebook 11 will be available - one with 2GB of RAM and one with 4GB. The 16GB solid state drive will boot up quickly, but doesn't provide much local storage. That's, of course, not too important, as Chrome OS uses Google Drive's cloud to store most files. Because of the low-powered screen and processor, Dell's Chromebook 11 will squeeze out about 10 hours of battery life, while only weighing about three pounds. Other essentials, like two USB 3.0 ports, Bluetooth 4.0, and WiFi come with the Chromebook 11, along with an HDMI port, which could be useful for class presentations.
Classroom Focus
The Dell Chromebook 11 is one of several recent Dell computers and tablets designed for use by teachers and students. But this is the first time Chrome OS has hitched a ride with Dell into the classroom.
"Dell is no stranger to designing and building great computers, particularly in education," said Caesar Sengupta, vice president of product management at Google in Dell's release. "Adding Dell's first Chromebook to our stable of devices built for the classroom is a big milestone, and Dell has been a great partner in this effort. The Dell Chromebook 11 with Google Apps for Education will bring exciting new possibilities for learning and collaboration inside and outside the classroom."
Dell touts that its Chromebook comes with features designed to make a learning laptop safe and secure, including a web-based console that can configure several Chromebooks at once - allowing teachers and administrators to set web browsing limits and push or remove applications onto a classroom's Chromebooks all at the same time. It also comes with security features like verification, sandboxing, data encryption, and easy recovery.
The Chromebook also comes with Dell Wyse PocketCloud, which allows teachers and students to access a private "personal cloud" across devices, so classrooms full of students can all access, edit, and share documents and presentations with each other.
The Dell Chromebook 11 will first be available in January 2014 with 4GB of RAM, followed by the 2GB RAM model in the "first quarter of 2014," according to Dell. The company isn't offering specifics on the price yet, but says the Chromebook 11 is "expected to sell below $300."
© 2015 Latin One. All rights reserved. Do not reproduce without permission.
Sign up to receive the lastest news from LATINONE