New York State Loses Out on $135 million Annually Banning MMA: New Report
Nov 22, 2013 01:33 PM EST
Sign up to receive the lastest news from LATINONE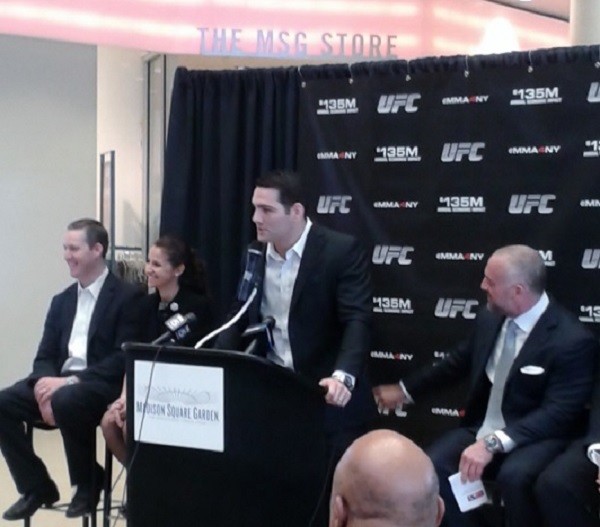 Ultimate Fighting Championship (UFC) released an updated independent report on Thursday showing the potential revenue that the state of New York is missing out on due to the state's ban on the sport of mixed martial arts (MMA).
New York is currently the only state in the union that has not legalized the sport, which could be a mistake according to HR&A Advisors' recent study, which shows that the state is losing out on $135 million in annual revenue, which could go a long way in relieving the state's $1.7 billion deficit.
"The idea that we're going to be letting go of that amount of money is governmental policy craziness," says New York State Andrew Hevesi (D-Queens).
According to the new report conducted by HR&A's Advisor, if the UFC were to hold five events in the New York - three upstate in regions like Buffalo, Syracuse and Albany and two downstate events at Madison Square Garden - the state's windfall could potentially add up to $18 million of revenue for upstate and $16 million for downstate. HR&A's Advisor's believes that another $34 million in revenue could be generated for the state if other MMA organizations, such as the World Series Of Fighting (WSOF) and Bellator, held events in the region, on top of another $67 million generated by MMA training centers that would open up and expand should the sport be legalized.
HR&A Advisors points to the success of UFC events held in surrounding areas, such as UFC 129 at the Rogers Centre in Toronto, Ontario - which drew heavily from fans in the upstate New York state area and had a $35 million impact for Toronto, and UFC 78 at the Prudential Center in Newark, New Jersey - which grossed $2.1 million in ticket revenue, as examples of how New York state is missing out due to the ban on the sport.
"We are the only state where professional MMA is illegal and banned. New York is not living up to its sports tourism potential," says State Senator Jose Peralta (D-East Elmhurst). "Legalizing MMA creates jobs, enhances tourism, boost businesses for hotels, retaurants, and puts money into the pockets of all New Yorkers. We need to get into that flow."
State Sen. Peralta pointed out that a bill legalizing MMA has passed in the New York state senate and are waiting for a vote in the state assembly to complete the process. However, the Culinary Workers Union Local 226 of Las Vegas has the ear of State Assembly Speaker Sheldon Silver (D-Manhattan), who has become a huge obstacle in the legalization of MMA. Silver, who has been the State Assembly Speaker since 1994, refuses to put a vote onto the assembly floor despite support to legalize the sport, according to Assembly Majority Leader Joseph Morelle (D-Irondequoit), who told the Wall Street Journal that he has 63 co-sponsors for the bill out of the 150 assembly members.
The Culinary Workers Union Local 226 of Las Vegas has lobbied State Speaker Silver to prevent a bill from coming forth in the State Assembly in their war against UFC chairman/CEO Lorenzo Fertitta and his brother Frank, who own a non-union casino in Las Vegas and have refused a card-check vote - in which each worker's "yay" or "nay" vote would be public - within their establishment. Though the culinary union is based out of Las Vegas, State Speaker Silver is skittish about angering their New York state union allies.
"Culinary Local 226 has not been successful organizing our team members, therefore they take other tactics and follow us around in, not just New York, but other states where we do business," said UFC chairman/CEO Lorenzo Fertitta at the press conference. "They try to harass us essentially. And that's not something I'm making up. They've sent letters on their letterhead; they've talked to their legislators. They're the ones putting out these stereotypes, putting out this misinformation about the sport, the participants of the sport, and the fans of this sport. We think it's absolutely unfair, and think it isn't right that a Las Vegas union should interjecting as far as what happens in New York."
Adding to the frustration and the hypocrisy of the state ban is the fact that not only are other forms of combat sports and martial arts legal in New York state, sports such as Muay Thai, karate, boxing, wrestling, and kickboxing - with GLORY 12 Kickboxing holding an event Saturday night at The Theater in Madison Square Garden, but amateur MMA, which is unregulated by the state, has legality within state borders.
"Amateur MMA is legal in the state of New York," says Fertitta. "No one has explained the differences between 'amateur' and 'professional' and we don't understand why, because there are unregulated amateur events all over New York State."
For UFC middleweight champion and Long Island native, Chris Weidman, the politics of the state are preventing him from fulfilling a career dream of his, defending his title at historic Madison Square Garden.
"It makes no sense to me when the sport is legal in 49 states," said Weidman to the LatinosPost.com, who had hoped to live out his dream match of fighting former UFC middleweight champion, Anderson Silva, at MSG in their much anticipated rematch for his title. "I'm from Nassau county. I still live here, I pay taxes here. It feels like my hard work is criminalized. It's not right that I can't defend my title, something I worked so hard for my entire life, in front of my hometown."
© 2015 Latin One. All rights reserved. Do not reproduce without permission.
Sign up to receive the lastest news from LATINONE