Immigration Reform News 2014: Government Shutdown Delayed 37,000 Immigration Court Cases
Feb 26, 2014 12:53 PM EST
Sign up to receive the lastest news from LATINONE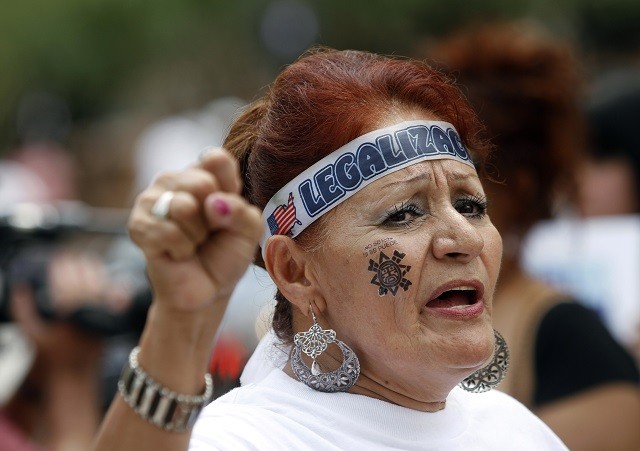 In addition to draining an estimated $24 billion from the U.S. economy and furloughing thousands of government workers, last year's federal government shutdown also had catastrophic effects on the country's immigration court system.
Before the Republican-induced shutdown last October, immigration courts were already notoriously backlogged by hundreds of thousands of cases and suffered from a shortage of judges. However, another 37,000 immigration hearings were postponed when more than three dozen immigration courts closed during the 16-day government shutdown.
Now, those hearings have been delayed by months and even years for immigrants already waiting in long lines to plead for asylum or green cards. Additionally, while those with strong cases for staying in the U.S. are left in legal limbo, others who face likely deportation have won more time in the United States.
Immigration judges can grant asylum, green cards and other forms of relief. They also determine if someone should be deported for breaking the country's immigration laws. However, rescheduling cancelled hearing dates is a long and tedious process.
Think Progress reports that it took an average of 562 days to process one immigration case in 2013. By January, more than 360,000 immigration court cases were pending for an average of 573 days, according to the Transactional Records Access Clearinghouse (TRAC) at Syracuse University.
As a result, immigrants who had hoped to have their cases resolved in October in order to visit family abroad or get a job have instead had their lives put on hold and will have to wait months or even years for a new hearing date, according to emails obtained by The Associated Press.
"This is a big task, and not one that will be accomplished quickly, especially given our current staffing shortage," Chief Immigration Judge Brian O'Leary wrote in an email to immigration judges and court administrators.
In another email, O'Leary wrote that the tally of deferred hearings had surpassed 37,000 and many immigrants probably wouldn't get their cases heard until at least 2015.
"You have this very delicately balanced system. Now we have this added dysfunction to cope with on top of that," said Immigration Judge Dana Leigh Marks. "I just think the ripple effect is going to be continuing for a while."
The situation is especially troubling for asylum seekers such as one teenager identified as Oscar. He fled his native country of El Salvador last year when he was 17 years old in order to escape the street gangs that killed his mother and threatened to kill him if he didn't join their ranks. Now he is seeking legal status through a program that helps foreign children in the U.S. who have been abused or abandoned. But because Oscar's hearing was pushed back from October to June or later, he is left to worry about his future. "I'm afraid they're going to send me back," Oscar said.
The delay also means more uncertainty for undocumented immigrants like Gladys Hirayda Shahian, who has been trying to obtain a green card through her American husband for more than a decade.
Estrada Gonzalez's case was similarly put into legal limbo because of the shutdown. He was originally put into deportation proceedings in 2009, but became eligible to legalize his status after marrying the daughter of a naturalized U.S. citizen, reports The Arizona Republic. Although his green card was approved, he still needs to attend a deportation hearing to obtain a driver's license and work permit. However, because his hearing was cancelled, Gonzalez's documents will remain expired.
"Situations change. Memories fade. Evidence gets lost ... If you have a court date now, and it is kicked off the calendar, it could be a matter of life and death," said Greg Chen, the advocacy director for the American Immigration Lawyers Association, according to The Washington Post.
The situation is likely to only get worse for immigrants who are still waiting to have their cases heard since more than 100 immigration judges are eligible for retirement in 2014.
Even though the Executive Office for Immigration Review says its average retirement rate is only 5 percent per year—which would mean 11 judges could retire in 2014—there are a variety of factors likely to push retirement-eligible immigration judges to retire at the earliest opportunity. According to a 2009 University of California at San Francisco study, immigration judges endure greater job burnout and more stress "than prison wardens and physicians in busy hospitals," reports Think Progress.
The judges blamed the stress on the pressure to adjudicate numerous cases in addition to deciding the fate of so many lives in a short amount of time. Other factors include the backlog of cases that new judges would inherit and the fact that judges are burdened by budgetary constraints.
Immigration courts also lack resources like a bailiff, court reporter and often times a court clerk. In addition, immigration judges are required to do a greater amount of the legal research than other judges since 60 percent of those who come before their bench cannot afford an attorney.
© 2015 Latin One. All rights reserved. Do not reproduce without permission.
Sign up to receive the lastest news from LATINONE