Super Bowl 2014 Photos: Get Pics From Game, Half Time Show, Cheerleaders, and More
Feb 02, 2014 07:36 PM EST
Sign up to receive the lastest news from LATINONE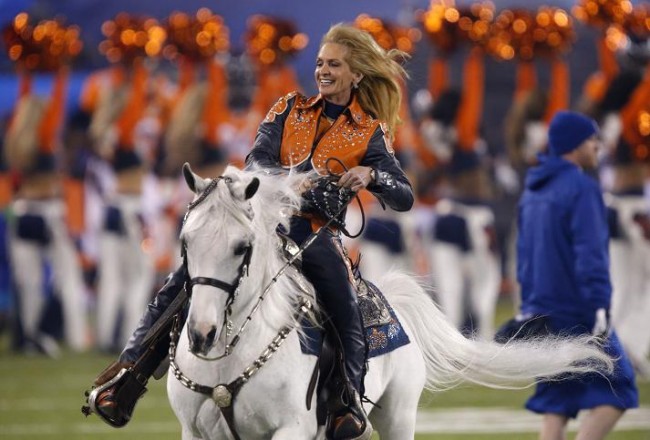 Super Bowl XLVIII is underway, and both Peyton Manning's Denver Broncos and Russell Wilson's Seattle Seahawks are battling tooth and nail for the NFL's crown.
The biggest game of the year kicked off with Grammy-winning hip-hop artist/actress Queen Latifah signing "America the Beautiful," while opera singer Renee Fleming sung the national anthem at MetLife Stadium. Super Bowl III MVP and NFL great Joe Namath of the New York Jets also was in attendance.
Denver won the coin toss and received the kickoff to take it 20 yards. However, Seattle drew first blood with by scoring on a safety thanks to a Manning fumble which was recovered by Knowshon Moreno in the end zone, costing Denver two points in what was the ninth safety in Super Bowl history.
Seattle kicker Steven Hauschka put the Seahawks up 5-0 when he nailed a 31-yard field goal in the first quarter. Another field goal by Seattle with just over two minutes in the game put the Seahawks up 8-0, though Denver managed to keep them out of the end zone through that time.
The following pictures will be updated throughout the game. Stay tuned to Latino Post for more up-to-the-minute coverage on Super Bowl XLVIII.
© 2015 Latin One. All rights reserved. Do not reproduce without permission.
Sign up to receive the lastest news from LATINONE