Brazil's Political Mess
Dec 11, 2015 05:00 PM EST
Sign up to receive the lastest news from LATINONE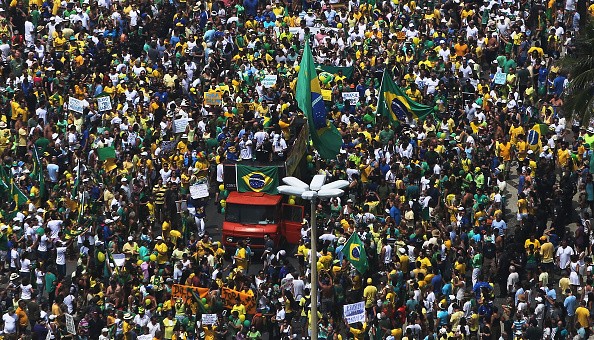 Brazilian president Dilma Rousseff received a Hail Mary pass on Tuesday, when the Supreme Court halted impeachment proceedings against her. And at the same time there was some conjecture as to whether a key ally would abandon her.
The political crisis in which Brazil finds itself and of which Rousseff is the chief protagonist with others playing key to minor roles has everyone wondering if she will survive to the end of her second term.
As the first women to lead Latin America's largest economy, there is a lot at stake. An economy expected to continue to contract well into the first half of next year, an ever-widening corruption investigation at the state owned oil giant Petrobras and the Olympic Games of Rio2016 in half years' time.
Vice President Michel Temer, a member of the centrist Brazilian Democratic Movement Party (or PMDB as it is known in Brazil), the key coalition partner to Rousseff's left-wing Worker's Party, (or PT as it is known in Brazil), appeared to ease the tension between himself and Rousseff, according to some published reports. Quoting advisors, the O Globo TV network reported that Temer and Rousseff decided that the issue of impeachment would not come up at their future meetings, that Temer would not have to make public statements supporting the government and that he would not work toward her impeachment. Temer is important because without him, Rousseff will find it much harder to secure the one third majority in Congress to defeat impeachment.
Adding to the political mess, is a Brazilian economy that is in a tailspin, with GDP down 4.5 percent in the third quarter year-on-year, and the real down a third against the dollar this year. In fresh signs of a plunging economy, the government announced that year-on-year inflation for November of 10.8 percent - the highest in more than a decade.
In the political and corruption entaglements that Brazil finds itself in there are very few clean hands. There are 20 percent of Congress members a whole that face criminal investigations, many of them linked to Petrobras, David Fleischer, University of Brasilia political expert told Agence France Presse. Congressp em Foco also reported that 40 percent of the 81 Senators are under investigation in the Supreme Court. Almost half of those investigated are in the PMDB and PT parties.
Brazilians while they have long endured some measure of corruption, this time they seem to have had enough. Nationwide rallies are scheduled for Sunday and Rousseff supporters will take to the streets on Tuesday in Rio de Janeiro -- the host city for the 2016 Olympics.
© 2015 Latin One. All rights reserved. Do not reproduce without permission.
Sign up to receive the lastest news from LATINONE