New .UNO Domain Announced: Designed For Latino Websites Worldwide
Dec 14, 2013 12:52 AM EST
Sign up to receive the lastest news from LATINONE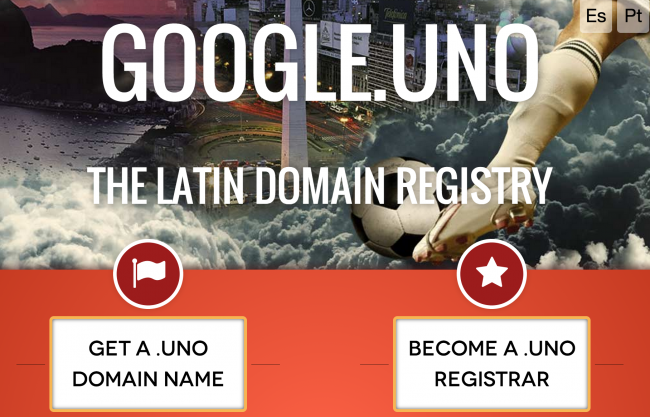 As we all know, the interent has dramatically expanded in the past few years, and with it, the number of websites. But with a few top-level domains, like ".com," ".org," and ".net," the proliferation of websites necessitated longer, moer complicated, and harder-to-remember website names. Now there's a new domain for Latino websites, along with a slew of other domains, to help organize the increasing mess on the World Wide Web.
The Internet Corporation for Assigned Names and Numbers (ICANN) is the group that registers and delegates Top-Level Domains (gTLDs). Through the year, it has been working with IT experts and interested parties worldwide to expand the 22 gTLDs (.com, etc.) into possibly 1,400 new domains. One of those new domains just announced is .UNO, a domain extension specifically designed to serve Latino communities worldwide.
".UNO is the first global web extension dedicated to Spanish-speaking businesses, consumers and individuals online," announced Dot Latin LLC (an IT business supporting Spanish-speaking websites) and EnCirca (an ICANN-accredited registration organization) in a press release this week. The groups touted .UNO as a stand-out domain extension for Latino websites, as it's short, memorable, and specifically pinpoints the domain's purpose in just a glance.
".UNO is poised to become the online destination for the Hispanic market," said Tom Barrett, President of EnCirca. ".UNO's worldwide reach and dedication to Spanish-speaking businesses and consumers makes it a must-have address for trademark owners."
The Latino-centered web domain is one of the first out of the gate for the newly expanded web. ".UNO will provide a unique opportunity for Hispanic and Latino web users to communicate and transact business together, in one space, online," said EnCirca. ".UNO offers differentiation to Spanish-speaking businesses and entrepreneurs. It provides a voice and a platform within a community environment which transcends geography and citizenship, and tells the world that this is the place to be."
The .UNO domain is designed for Spanish-language Latino websites throughout the world, regardless of country of origin - though the .UNO web domain would not be able to restrict English-language websites from registering as a practical matter, and is instead being promoted as being made with Spanish speakers "in mind": ".UNO provides an opportunity for businesses, consumers and individuals to stand out in the Hispanic market and create a meaningful connection with 490 million Spanish-speaking people worldwide." said Dot Latin LLC CEO, Shaul Jolles. "Hispanics will know that every site that ends with .UNO was made with them in mind; .UNO is a culturally relevant domain, easy to remember, and simple to connect."

The new ICANN domain expansion has not happened without some squabbling between interested parties. Earlier this year, ICANN heard arguments from representatives from Latin American countries near the Amazon river and retail giant Amazon.com, who both wanted a ".AMAZON" domain extension. The world's largest online retailer lost that battle.
For more information on the new .UNO top-level domain, you can visit www.unodominio.com, which, ironically, is currently a ".COM," and available in English as well.
© 2015 Latin One. All rights reserved. Do not reproduce without permission.
Sign up to receive the lastest news from LATINONE