Mystery Google Barges Might Have Been Too Secret for Too Long: Two Government Agencies Halt Construction Progress With Concerns
Dec 10, 2013 04:39 PM EST
Sign up to receive the lastest news from LATINONE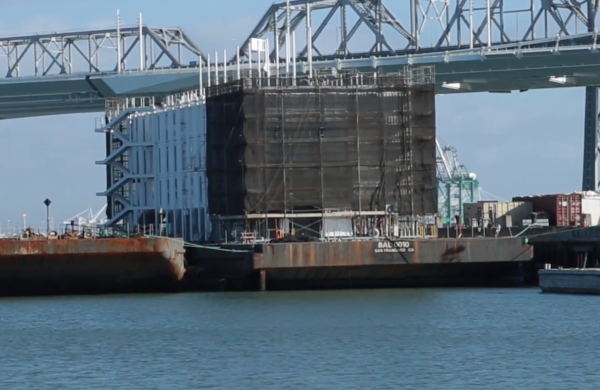 Like a lot of things Google does, the barge moored off the coast of San Francisco was a great media mystery for tech reporters to mull over. But keeping the mystery alive for so long might have cost Google its construction deadline, as both the Coast Guard and San Francisco Bay Conservation and Development Commission have made requests that have caused a pause in construction on the barge.
Google's mystery barge caused a lot of speculation for a couple of weeks. Reports that the mysterious scaffold-covered barge might be a Google data center first hit the tech blogosphere, followed by other reports based on unnamed sources that said it was planned as an outlandish, luxury showroom to display and demonstrate Google Glass. The latter idea was finally found to be (basically) true, after the San Francisco Chronicle obtained documents submitted to the Port of San Francisco through a FOIA request, showing what the final product would look like.
The eccentric floating barge with 50-foot sails, which will act as a sales floor and attention-getting marketing scheme for Google[X] (which makes Glass) will not be completed quite as early as Google had planned. According to CNET, the barge construction is "on hiatus" while Google takes care of some regulatory business foisted upon it by the aforementioned agencies.
"A variety of BCDC staff members have met with Google's representatives to learn about its plans," said Brad McCrea, director of regulatory affairs at the San Francisco Bay Conservation and Development Commission, to CNET. "we have learned that the barge is still under construction, albeit in a hiatus, and likely will not be completed until late spring 2014. In addition, Google is still exploring options for how to use the barge when it is completed."
Though the BCDC has its own regulatory issues with Google, the stoppage appears to have happened in late Oct., after the Coast Guard visited the barge, and the pause is reportedly still in effect. It seems the hiatus is a decision from Google, as the Coast Guard has denied that it ordered any work to be stopped, and has remained mum about the details of its inspection.
Still, according to McCea, changes requested by the Coast Guard might have caused Google to pause its work and change its plans. "It's our understanding that the design changes are to the interior of the vessel, as requested by the Coast Guard," said McCrea. It's possible that the Coast Guard had reservations about Google's mix of showroom and sea-worthy vessel from a safety standpoint.
Google's secrecy about the barge might have caused the BCDC to clamp down on Google as well. The agency has reportedly asked Google to file for a permit to dock its barge in San Francisco's Treasure Island, and is considering granting a permit only after determining whether Google's barge will "fill in the bay," or be moored in the same place for an extended period of time. For its part, the BCDC said that its investigation should be done in a few weeks time.
© 2015 Latin One. All rights reserved. Do not reproduce without permission.
Sign up to receive the lastest news from LATINONE