Samsung Galaxy Note 3 Review: If Size Doesn't Matter, There's Not Many Phones More Exciting
Nov 26, 2013 07:44 PM EST
Sign up to receive the lastest news from LATINONE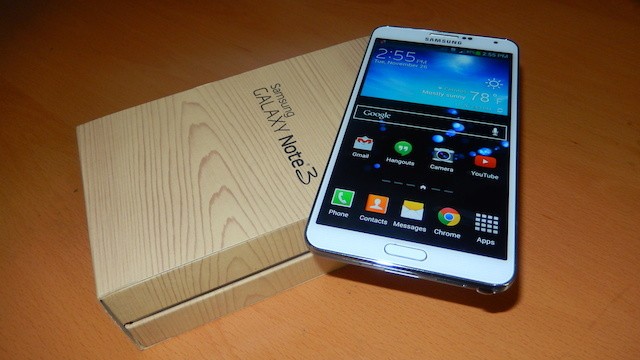 I've had over one month tinkering around with the recently released Samsung Galaxy Note 3, and by now I've had enough time to share my impressions about the device. Before we begin, however, let's get a couple technical details out of the way.
The Samsung Galaxy Note 3 I used was a white, 32GB T-Mobile model. The Samsung Galaxy Note 3 is available for purchase (for around $300 with a two-year contract or $700 unlocked) through most major U.S. carriers, including Verizon, AT&T, Sprint, T-Mobile, and U.S. Cellular. The Galaxy Note 3 comes in classic white, jet black, and an unlocked model that's blush pink.
For the purpose of this review, T-Mobile's performance won't be evaluated. Speeds and connectivity vary by location and carrier, so all you need to know is the Galaxy Note 3 will be faster than most other handsets given the same two variables.
What the Galaxy Note 3 Packs
Make no mistake, Samsung has once again made the latest Galaxy Note one of the most powerful handsets on the market. All U.S. Samsung Galaxy Note 3s pack an impressive 2.3GHz quad-core Qualcomm Snapdragon 800 processor that is LTE capable under the hood, along with a hearty 3GB of RAM. Without getting into technical mumbo jumbo, this equals a smartphone that literally outpaces the entire market in most categories. Technophiles can find a detailed breakdown of the Galaxy Note 3's benchmarks in many categories over at AnandTech.
The Samsung Galaxy Note 3's display is the largest in the Galaxy Note series so far, measuring 5.7 inches diagonally. The 1080p Full HD Super AMOLED screen spits out 386 pixels per inch at a resolution of 1920X1080. Text is crisp and easy to read, and viewers will find little to complain about. The phablet's size and high-quality display made watching videos (and even Netflix) not just bearable, but convenient and enjoyable at the same time.
The cameras are no slouches either. The Galaxy Note 3's rear shooter is capable of taking stills at up to 13 megapixels. It can also record 1080p Full HD video at 60 frames per second, and slow-motion HD at 120 fps. The front-facing camera, meanwhile, takes snapshots at 2 megapixels, although indoor photos can be a little grainy.
Overall, the Galaxy Note 3's camera is excellent, and has been my favorite to use of any smartphone. The large viewing screen, coupled with the crisp shots show that Samsung can, once again, make an excellent smartphone camera experience. But bear in mind that all the limitations of a smartphone camera still apply here, and you're still going to find it lacking in low-light situations.
The Samsung Galaxy Note 3 currently runs Android 4.3 Jelly Bean right out of the box with a number of TouchWiz features layered on top of the operating system, including functions like Smart Stay. Samsung has also included a host of its own company-branded apps, like email and S Health, but I personally never use them. To that end, if you're a fan of Samsung services, you'll find more than ever packed into the device, including the KNOX security suite, which allows for secure enterprise use. If not, there's always a healthy selection from Google Play, which isn't as big as Apple's App Store, but still has most of the must-have apps.
Samsung is rumored to roll out Android 4.4 KitKat for the Galaxy Note 3 during the first quarter of 2014.
Design and Usability
The Samsung Galaxy Note 3's design is rather elegant compared to other Samsung handsets. After facing serious backlash for manufacturing the Galaxy S4's body in all plastic, Samsung opted for a more refined and sturdy feel that gives the new Galaxy Note its own aesthetic, away from the Galaxy S series, unlike the Galaxy Note 2. Keeping in line with the "journal" theme of the device, Samsung gave the Galaxy Note 3 a plastic artificial leather backing complete with faux stitching in order to make writing with the S Pen feel like writing in a notebook.
The Samsung Galaxy Note 3 sports a pop-up home button at the bottom center with a "Settings" touch button on the left and a "Back" touch button on the right — the Android standard. The volume rocker is located on the top left side, while the power and lock button is located on the top right. A 3.5mm headphone jack is on the top left, and the USB 3.0-compatible charging and connection port is dead center on the bottom of the device. The Galaxy Note 3's speaker is located on the bottom right, between the charging port and the S Pen stylus holder, which is embedded into the phone so that it doesn't stick out.
All in all, the phone is beautiful. Despite having a polycarbonate casing, the Galaxy Note 3 doesn't feel cheap, like some previous Galaxy handsets have. And the pleather backing is a nice touch — it made the phone easier to grip, although it will certainly pick up stains more easily than a normal plastic shell.
Even with the improved design, however, the real decision to be made is whether or not you're willing to go that big. With a 5.7-inch display, the Galaxy Note 3 is not an easy beast to handle. Unless you have extremely large hands, a lot of functions and button presses will require some constant readjusting. Of course, as time went on, swipes and functions became easier, but as a regular iPhone 5 user, I find one-hand usage incredibly important on my smartphone. And then there's the fact the Galaxy Note 3 tended to fit uncomfortably in my pockets.
There are plenty of areas where the Galaxy Note 3 excels though, due to its large size. Shooting and viewing photographs and videos are a pleasure compared to smaller phones, and the crisp display does nothing but heighten the entire experience. The S Pen is also enhanced by the extra screen space, which gives the user much more room for manipulation.
S Pen Stylus
Speaking of the S Pen, this is the one area that truly sets the Samsung Galaxy Note 3 apart from any of its competition. Unlike other phablets that can only offer a powerful, large touchscreen-based experience, the Galaxy Note 3 gets a special kick from its fantastic S Pen. Without a doubt, it's the only electronic stylus I've ever had fun using, and it only seems to get better every year.
The stylus is accurate and comfortable to grip, and while it's not something you'd want to write a thesis with, its functionality and ease of use make the S Pen a worthwhile accessory.
All users have to do to kick off the S Pen experience on the Galaxy Note 3 is slide the stylus out of its slot on the bottom of the device. Users are then treated to a quick function wheel from which they can choose to scrapbook, take notes, or even write on a portion of the screen itself. Samsung has included many apps to take advantage of the S Pen, such as Scrapbook and S Note, and all have a decent amount of templates and options to play around with. Still, these S Pen-oriented apps could use a boost in terms of depth — they still seem a little more like a distraction than part of the handset.
Conclusion
There's really nothing bad to say about the Samsung Galaxy Note 3, except for its size and price tag (both of which are relative to the purchaser). It's blazing fast, looks great, and the S Pen seems less gimmicky than ever before. The Galaxy Note 3 sets itself apart from other phablets with the S Pen and depending on how much you enjoy Samsung's TouchWiz interface, there's really no better way to experience Samsung technology in an everyday fashion. If you're looking for a unique, large-screen Android phone for the holiday season, look no further than the Galaxy Note 3.
© 2015 Latin One. All rights reserved. Do not reproduce without permission.
Sign up to receive the lastest news from LATINONE